At the Shot Show 2013 in Las Vegas Umarex had on display the new Umarex Steel Force BB repeater air rifle. This air rifle has the same internal mechanism as the Umarex Steel Storm. This new air rifle is modeled off the AR platform and will have the adjustable stock.
I was suprised to see the specs of the Steel Force FPS being the same as the Steel Storm's, at 430 fps. The new Steel Force seems to have a longer barrel which traditionally should yield a bit more fps. Don't be surprisd when the Steel Force hits the market that it might produce 500 fps. Lets hope so! Update: on further inspection, seems the barrels are the same length.
It will be one shot or 6 round burst at 1200 rpm just like the Steel Storm. Blowback action will also be functioning just like its predecessor. The BB hopper is on top and the built in magazine will hold 300 BB's. This unit will also use the 2 – 12 gram CO2's for it power. You should get around 200 good shots with this air gun and 300 shots total from the air supply.
Looks like so far this awesome air rifle will be priced around $125 USA, which is about $25 more than the Steel Storm. The one differece in the two units are the category. The Steel Storm is considered a BB pistol and the new Umarex Steel Force will be in the BB rifle category, mainly do to it's larger size and length with it's rifle stock.
Update June 1st: The Umarex Steel Force is now on our store! Get yours here.
See the video of the Umarex Steel Force below…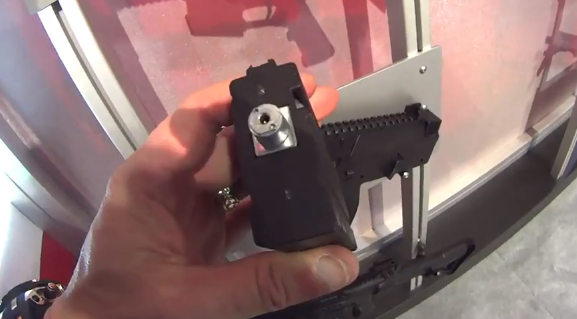 Video: Umarex Steel Force at the Shot Show in Vegas 2013
Credits: Thanks to Michael Kaye at ReplicaAirguns.com for the video and picture. Screen shot pictures from the video.